Start a Garden
Find this page at:
go.ncsu.edu/readext?264772
"Eat Smart Move More North Carolina:
Growing Communities through Gardens"

A planning and resource guide for anyone who is thinking about starting a community garden.
The guide describes a community garden, its benefits, how to find or start a garden and tips for growing, storing, preparing and enjoying fruits and vegetables. In addition it highlights state and national gardening resources.
Whether your "community" setting (work site, faith community, school, etc.) is considering starting a community garden or you are thinking about joining a garden near you, the primer walks you through the options, steps and resources to ensure success.
Low-Resolution Version, PDF (2.88 MB)
Hi-Resolution Version, PDF (9.91 MB)
Reduced ink version for printing, PDF (4.78 MB)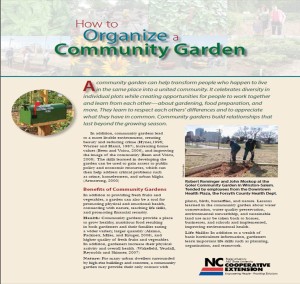 How to Organize a Community Garden
Community Gardening Tool Kit with background information, How to start a garden, select a site, organize, trouble shoot potential problems. Includes model design, by-laws, application, memorandum of understanding, budget, funding and resources.
Low-Resolution Version, PDF (2.88 MB)
Collard Greens and Common Ground: A North Carolina Community Food Gardening Handbook by Don Boekelheide & Lucy Bradley
74 pages available on-line or in hard copy
Getting Started, Site Selection, Design, Site Preparation, Management,
Growing Food, Funding, Troubleshooting