Community Gardening 101 – a 30 Min Video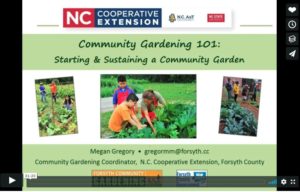 Click Here to learn how to create and sustain a community garden!
forming a leadership team,
organizing the garden,
selecting a good site,
sustainably designing, planting  and maintaining the garden,
using the garden to bring people together.
When you finish viewing the webinar, please complete a brief evaluation.
More information about the webinar.
This webinar was created by Megan Gregory (gregormm@forsyth.cc), Community Gardening Coordinator at N.C. Cooperative Extension, Forsyth County Center.